Not everyone is fortunate enough to be able to hit the trails in search of their boundaries. Sometimes illness stops the momentum. To allay suffering initiatives exist, such as that of the « Baskets aux Pieds » foundation, which gets sick children to take wing.
A little girl, virtual reality goggles screwed on her head, headphones on her ears, smiling, is immersed in virtual reality. Like many other children playing on their console? Not her.
Anaïs flies over the superb Mont Blanc trails, the Pyrenees mountains and the breathtaking landscapes of Iceland. « I feel like an eagle, » she marvels. Yet she is lying in bed at the hospital.
Next to him is Antoine Bonnefille-Roualet, founding president of the « Baskets aux Pieds » foundation (BAP), starry eyed behind his surgical mask.
It's come a long way since 2018, when he had the idea of ​​bringing nature to sick children through technology. At that time, Antoine spent a lot of time shooting footage in many countries for documentaries from the Montagne TV channel and Trek TV. He is also the creator of the E-Motion Trail series.

At the same time, he embraces the cause of the Rire Médecin association, whose clowns amuse hospitalized children, by raising funds through solidarity bibs for trail and ultra-trail.
His willingness to engage with sick children is becoming stronger. He feels he has to act even more concretely.
It was then that with his partner Laure Bernou he decided to invest in an original concept allowing children in hospital to travel by sliding aerial images in virtual reality goggles.
He already had the equipment: all the documentary footage he had shot. It was a great way to « give them a second life. »
Away from pain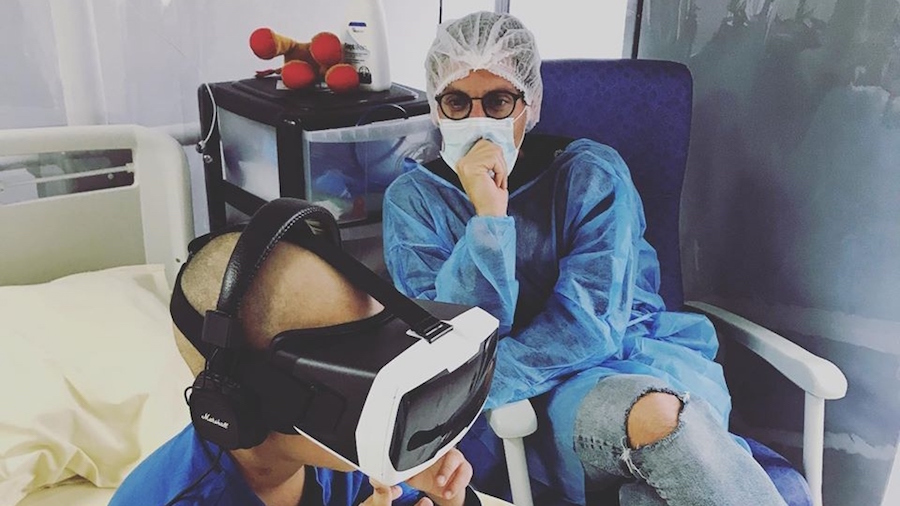 On the road to recovery, it has been shown that non-drug treatments can have significant therapeutic value.
Faced with this observation, drawing on the experience of Laughter Doctor, after numerous researches and tests in collaboration with the Armand-Trousseau hospital in Paris, and in particular the pediatric hematology-oncology service, the « Baskets aux Pieds » project is launched.
The dive is not only visual: in the helmet there are sounds of birds, cows, wind. The experience is complete: the child is really disconnected from his hospital room.
The interest with this « virtual escape » process comes in particular from the possibility of diverting the child's attention. « Like Anna, who does not support any treatment, with an anxious state towards doctors and any care, explains Antoine. She has tube chemotherapy that makes her vomit. During an immersive journey, the treatment was lavished on her without her realizing anything. »
Beyond hospitals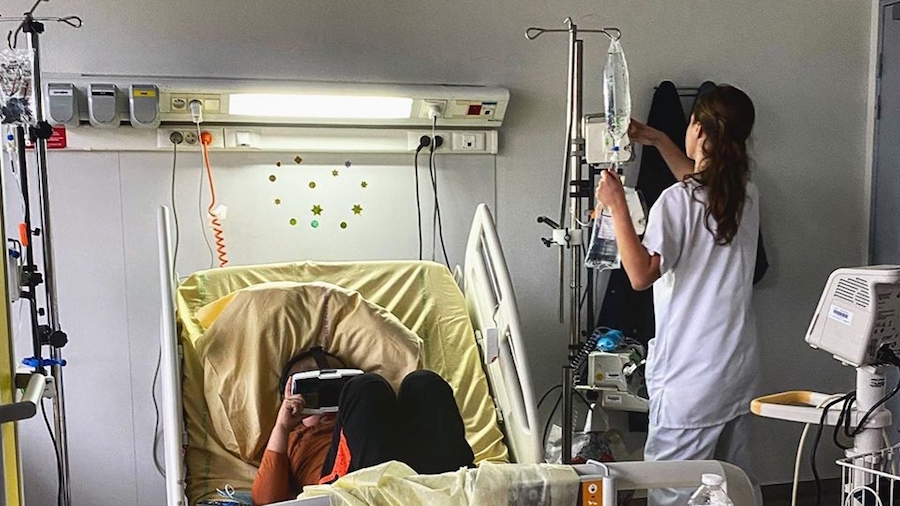 The need for money to conduct operations led Antoine and Laure to federate the nature sports community through united actions.
The « Event Trail de Royat » near Clermont-Ferrand in France was the first to prompt the momentum by donating 1 euro per bib, therefore giving visibility to the foundation.
A Vosges sportswear brand launched a collection on behalf of BAP. The association « L'Aixploreuse » organizes solidarity race outings. A participatory donation fund has been set up on the Internet. Solidarity is taking place.
The foundation also wants to « give a real meaning to the solidarity runner, explains Antoine. He is not only a runner, he also goes to visit the children in hospitals once or twice a month for example. Let the runner be concretely involved. »
Antoine says « the association evolves as hospitals and people are paid a visit. » When a hospitalized teenager tells him « it would be nice to be on an ATV, head upside down, on the Red Bull Rampage competition, » or a little boy tells him that he would like to swim with the sharks, he can only try to do everything to meet these desires by finding quality images.
The ecological aspect also surfaced, because « nature is sublimated and it sharpens the eyes of children. There is a form of education when you present beautiful images. Like everything that is beautiful, we don't want to destroy it, » says Antoine.
Translation : Caroline Beaton
Must Read: