We all know how critical the options for cross training are for the dedicated trail, distance and ultra runner, especially if we are injured or in need of a new challenge. Cycling is a popular outlet in general, but what about this new sport and variation of bicycle?
Gravel cycling is one of the recent revolutions that have transformed the world of cycling, and this version of the sport of cycling is arguably the closest thing that exists in comparison to trail running on two wheels.
Gravel cycling is a lot of fun, and it does not require a high level of technical expertise. Find a gravel road, trail, or head out of the city and you'll find that there are thousands of kilometers of wide open, car-free cycling outside or even within most cities and locales.
Unlike a dedicated road bike, you can point a gravel bike at a great deal of even somewhat technical single track, and with a minor learning curve, you'll be navigating them with ease.
Unlike a mountain bike, a gravel bike can easily average 30+ Km/Hr on hard pack dirt or asphalt, depending on your fitness, of course. And if you want to do some light touring or commute, either once in a while or in a dedicated manner, these bikes are excellent performers in all categories.
Cross Training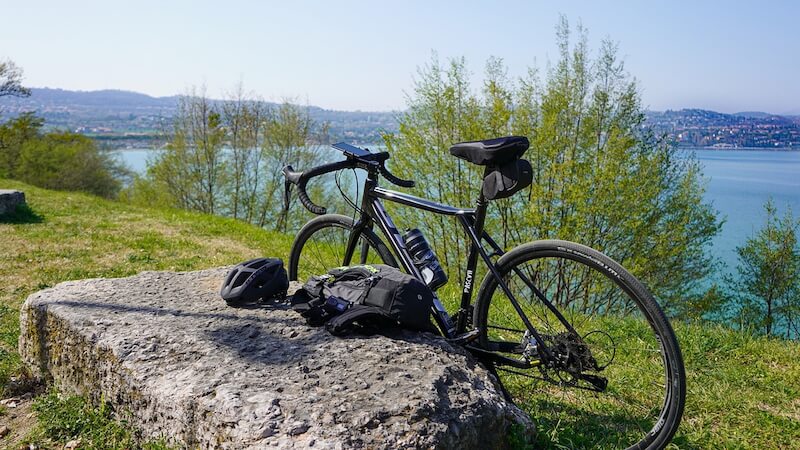 We cross train for two main reasons: to build strength and/or flexibility in a less impactful way than running, or to incorporate a high intensity or sustained cardio workout that is also less impactful, or low impact, in comparison to running.
Cycling is excellent cross-training, except many people envisage the different forms of cycling as potentially dangerous and even injurious. This author could write a book on the outcomes of mountain and road bike crashes, but he has never crashed on a gravel bike.
Other than commuting, which is a different beast entirely, the ideal terrain for the gravel bike is accessible, mildly challenging, beautiful, and largely devoid of cars and indeed, other people. Fire access roads, converted rail trails, back roads, and even mountain bike trails are accessible on a gravel bike, with its friendly wide tires, comfortable frame materials, and broad gearing to accommodate most terrain and technical challenges.
There is nothing to stop one from setting the bike up on an indoor trainer for winter training, as well.
Cost
A gravel bike can be had at a much more accessible price point than even a middle of the road mountain or road bike, which typically run to costs of $3000 and above – the warning signs of an expensive bicycle are a full carbon frameset, in certain cases an 11-speed drivetrain, full hydraulic braking systems, and in some cases electronic shifting.
A dependable all-rounder can be had for $1250 new, while a dedicated gravel bike designed for training and racing can be purchased for under $2500. So, for a dedicated trail runner who wants to cross train outdoors, the cost is less than a year's membership at most gyms, and much cheaper than a treadmill. If you are on a budget, look for a steel frame, mechanical disc brakes, simpler gearing (9-speed or 10-speed) and a good bike shop that takes the time to fit you on the bike.
If you wish to save some money and purchase a used bike: you will need to familiarize yourself with the many potential drawbacks of purchasing a used bicycle; also, gravel bikes are fairly new so used bikes will be difficult to source in this category.
But… what is a "gravel" bicycle?
A gravel bicycle is the closest thing to doing anything and everything well, but no one thing perfectly. Other than cycling on a gravel road, of course!
Ideally:
Carbon frame and steel fork, or:
Steel frame and fork, or:
Aluminum frame and carbon fork, or:
(Open budget) Fully Carbon
12mm through axles 
Mechanical disc brakes (actuating with cables instead of hydraulics)
Simplified gearing (10-speed or "one-by": one gear up front and eleven or twelve in the rear)
The main caveat about delving into cycling and gravel bikes is that some research is necessary, if cycling and cycling technology is new to you. That said, more than anything else, you will be best served by seeking out a bike shop that is friendly, educating, helpful with regards to sizing, and non-judgemental about your budget.
Any way you slice it, it's a fantastic way to hit even the most familiar trails in a brand new way that will allow you to maintain your fitness with a huge smile on your face!
---
Roy Kok is an ultrarunner, writer and run-commuter hailing from Vancouver, B.C. He was an invitee and participant for Team Canada at the 2016 World Trail Ultra Running Championships in Braga, Portugal and the 2014 Canadian (Trail) 50-mile champion.
Must Read: