The global Covid-19 pandemic has plunged us into a period of uncertainty and stress. In some countries, the constraints are quite severe. Forced to stay at home, runners accustomed to training freely in the open air wherever they wish find themselves in an restrictive situation, confined to their homes and neighborhoods. Yoga and meditation can help get through this difficult time.
In the athletic world, yoga is often considered to be complementary training to gain additional flexibility and mobility for a primary form of exercise. However, thousands of studies have confirmed the relevance of doing yoga and meditation in and of itself to maintain a balance in life and good mental health.
Harvard University published an article on March 16, 2020 inviting people to do yoga for healthy stress management during this pandemic. It says that yoga, meditation and breathing control are proven methods of relaxation.
There are eight branches of yoga according to the ancient texts of the guru Patanjali, considered one of the founding philosophers of this spiritual practice. The best known practice in the western civilization is the practice of adoptive poses, which are known in Sanskrit as asanas, and are undertaken most of the time without consideration of the spiritual aspect.
If meditation, called dhyana, is nevertheless, well known, the same cannot be said of controlled breathing, or pranayama. This last tool is however very effective. Here's how to get started.

Online yoga class
There are a multitude of videos online offering yoga classes. Try different approaches and test your ability to concentrate. Short sessions may be more suitable for you if you are new to the discipline.
It may be worth adding a power-type yoga session with forceful movements, such as lunges and planks, or repetitions of sequences to activate your muscles such as the sun salutation. This will allow you to move differently and exercise without having to go out.
If you are having trouble following the directions, or if it is too difficult or complex, you can instead practice some stretching movements you already know and find a time to do them once a day, keeping the poses between 5 to 10 breaths.
Remember that you have to adapt yoga to your physical condition and it should always be painless.
Take the time to meditate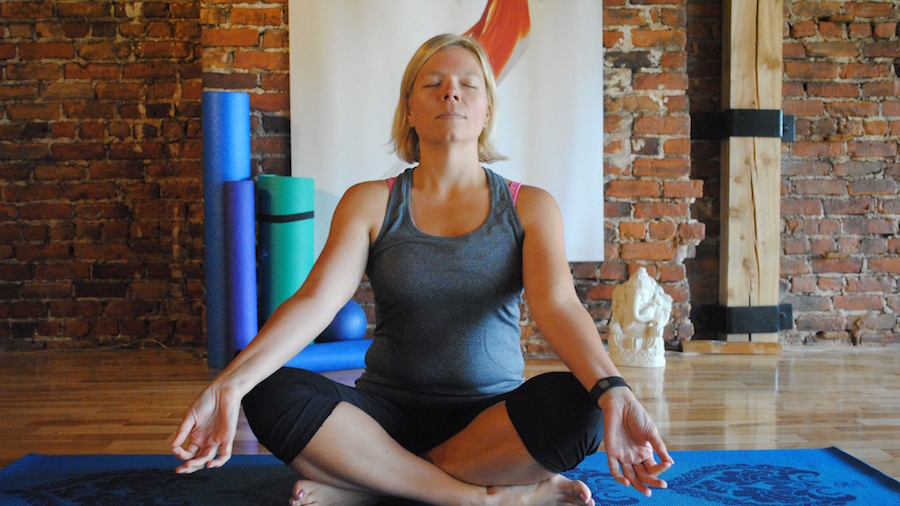 It is possible to support your meditation practice with videos, applications or audio. There are several types of meditation: you have to take the time to explore to find the one that suits your personality.
The advantage of guided meditation is not having to think too much. If you are a beginner, this is often the best way to get started.
There is no need to sit uncomfortably: new practitioners can sit in a chair. Advanced practitioners even meditate while walking (or running!) Meditation can be done anywhere, as you are simply learning to develop your perceptions and your ability to observe. It only takes a few moments to experience the benefits.
Here is a simple meditation exercise:
Close your eyes and keep an upright posture, sitting cross-legged on the ground, or in a chair with feet resting on the ground.
Observe the breath without judgment and focus on the present moment.
Get in touch with your emotions (positive or negative), and your physical sensations.
Listen to the noises around, the smells, the feeling of your clothes on the skin, the tastes, etc.
Keep posture and breaths for one to three minutes or more and slowly return to normal by moving your hands and feet.
Breathing technique
Different breathing techniques can help calm the body and mind. One of them is called square breathing.
The principle is to practice equal lengths of time inhaling, holding of the breath with lungs full, exhalation, and lungs empty.
Calculating the times in your head keeps you focused in the present moment.
Here is the sequence:
Sit in a quiet place in a relaxed posture, or lay on the floor or on a yoga mat. Add cushions and blankets to be comfortable. It is also okay to sit with your back straight and your eyes closed.
Take a deep breath at the start: inhale through the nose, expanding the belly and the rib cage, and then exhale completely while releasing muscle tension. Take at least 10 to 15 full breaths.
Continue by inhaling on a 1-2-3 count, hold your breath (1-2-3), exhale (1-2-3) , keep the lungs empty (1-2-3). It is okay to increase the count if comfortable.
Continue for 10 to 15 breaths. Tip: use your fingers to count!
Return to normal breathing.
Inserting yoga, meditation and breathing techniques into your daily routine will help you get through the current period of uncertainty more calmly. These practices won't provide the same dose of adrenaline as when you climb a mountain, but they will keep you active and healthy.
Translation : Caroline Beaton
---
Mireille Massé is a speaker, author and consultant in yoga for athletes. She has a master's degree in medical biology, and has accumulated numerous apprenticeships as a trainer and yoga teacher, notably with Christine Felstead, a pioneer in yoga for runners in Canada. Mireille is also the author of the Yoga for Athletes book. You can visit her website.
Must Read :