Our collaborator Simon Benoit, an emergency doctor at the Verdun Hospital in Montreal, runs to work every day. As doctor who prescribes running through his chronicles of Distances+, he expands upon the common theme of reconciling family, work to recommend, if you can, to become yourself, dear readers, run-commuters.
The Canadian Society for Exercise Physiology recommends a minimum of 150 minutes per week of moderate intensity physical activity or 75 minutes per week of high intensity for the general adult population. Adhering to this recommendation reduces mortality from all causes by 20 to 50%.
Being an active parent has undeniable benefits for our mental and physical health, but the impact is also reflected in our children, who learn by osmosis and imitation. The obesity rate for school-aged children is around 30%, while the average performance of students in the 1 km test and in the Léger-Boucher test (VO2 max estimate) deteriorates from year to year. Our children play less outside, hardly walk to school anymore and are much more sedentary overall. Clearly, the best way to encourage them to be active is to lead by example.
Recent polls confirm that 50% of parents of children aged 0 to 8 say they are exhausted by supper time, while indicators of happiness appear to be lower in families with very young children. The hard fact is that work-family balance is not a piece of cake. Managing personal time, couple time and family time requires careful planning. For parents, inventing time for physical activity is therefore not an obvious necessity to fulfill. You have to be creative. The secret for many has been to become a runner; in other words, to use your commute as physical activity.

Zero loss of family time
Personally, I accumulate 40 to 60 km per week of running in exactly this way. This represents a good part of my weekly mileage and costs me exactly zero family time. I even sold my car to save the significant expenditures of gas and insurance, in addition to reducing my carbon footprint. The impact on my sleep quality, my digestion, my patience and my energy is noticeable. I arrive at work well awake and inspire my children, my friends and my colleagues to do the same. I take this opportunity to do some intervals on speedy flats and on my favorite hills. In the morning, I sometimes make a detour to Mount Royal to see the sunrise. In short, I feel much more alive than if I was fighting traffic in my car.
There are many pitfalls and the list of potential failures is exhaustive. You have to admit it, you have to be really motivated to get out of your comfort zone and modify your morning routine to go make that big effort and start your day outside, in the cold, in winter. The fun of it will not necessarily be felt in the first few outings. You will have to let your body and mind get used to it. It takes at least six weeks of adjustment if you are to make this change to your lifestyle.
Adaptation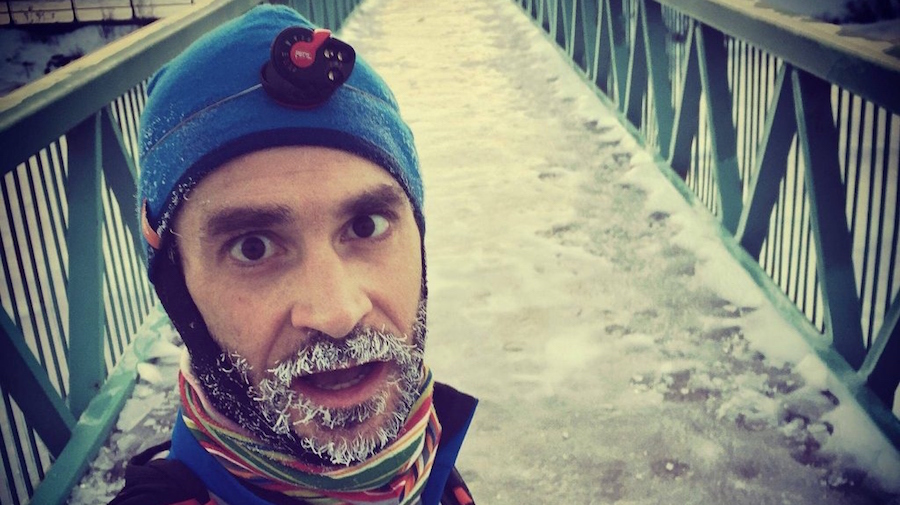 This transition period is sometimes painful, but the benefits will quickly be felt. This privileged moment of introspection and meeting with oneself will become a necessity, a daily must. Let's keep a blind eye to the list of failures and break the vicious cycle of fatigue and lack of energy. Becoming a run-commuter is euphoric, rewarding, inspiring and motivating. Running to work will also slow down your pace of life and giving yourself a little time to yourself.
The Kid's routine
Some parents must leave their children at daycare. Why not leave the car there and then commute to work? Why not run part of the way and utilize public transit? The point is, there are options.
Shower is not compulsory
The disdain for sweat and the fact of not having access to a shower are often cited as sensible reasons not to run-commute. But sweat is not dirt! It is true that the sweat in cotton can produce bacteria and bad odor, but technical running clothes that have been treated with anti-microbacterial chemicas make it possible to circumvent the problem. I don't always shower in the morning when I get to work. I quickly take off my wet clothes before the sweat dries on my skin and I wash myself with a washcloth all over my body and in less than five minutes, voila. I don't think I have a reputation for being the stinky guy around the hospital!
More and more run-commuters meet and greet each other on their respective routes. Facebook and Strava pages also promote it. I think this is the most efficient work, family and training balance strategy, in addition to being a good way to enhance our roles as an inspiring parent, spouse, colleague and friend!
Translation : Caroline Beaton
---
Simon Benoit is an emergency critical care physician, in addition to maintaining an office practice focused on sports medicine. He is a member of the Quebec Association of Sports Doctors. He also has a degree in physiotherapy and chiropractic and is an ambassador for La Clinique du Coureur.
Must Read: