In southwestern USA lies one of the world's most beautiful playgrounds for runners, cyclists, hikers, and all of those who enjoy being active. Arizona is a mythical place with a stunning decor for outdoor activities. Here's a few suggestions for your excursions in this American State that will take your breath away.
Monuments and red earth: Sedona and its surroundings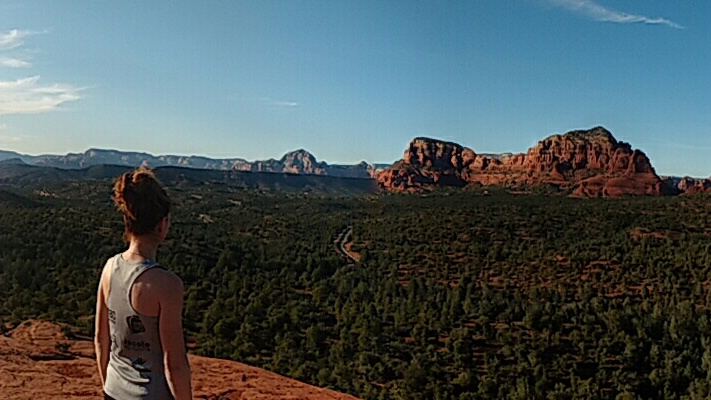 The area of Sedona is well-known to mountain bikers for the quality and diversity of its trails. But this mountain biking mecca is well worth a visit for trail runners too.
In fact, it is one of those trail running destinations that must be visited once in a lifetime. Its 200-km trail network is well marked and well maintained, offering the perfect playground for training runs, especially in early April.
Although the terrain is mostly rolling – as opposed to technical – you will find enough ups and downs for a decent workout. Make sure to keep an eye on where you're going, as the trails are lined with all sorts of cacti, the main technical challenge on this sort of terrain.
As far as the eye can see, the land is covered with red earth and the legendary rock formations of the Verde Valley. You may have seen this type of scenery in numerous movies, like Once upon a time in the West, Forrest Gump, and Thelma and Louise, as well as in the famous closing scene of Lucky Luke's episodes.

As for the level of difficulty, the trails are rated with mountain bikers in mind. All trails are equally beautiful. We strongly recommend "Hangover" for its technical aspects and magnificent views. Beware of you step though: some sections hanging on mountain sides are extremely exposed and require a good dose of courage!
The trail that leads to the chapel of the Holy Cross, which was built upon rocks, is equally remarquable, just like the Templeton trail, which overlooks Monument Valley.
Late March is an excellent time to travel to Arizona, with temperatures ranging from 20°C to 25°C during the day and 10°C to 15°C at night. At that time of the year, there are only a few cyclists on the trails on weekdays, and although there are many hikers, even in less accessibles areas, courtesy prevails between all types of trail users.
It is wise to plan for a few days off upon arrival to Sedona, so that you can acclimatize to the altitude (1,300 m above sea level) and the dry climate.
Black Canyon Trail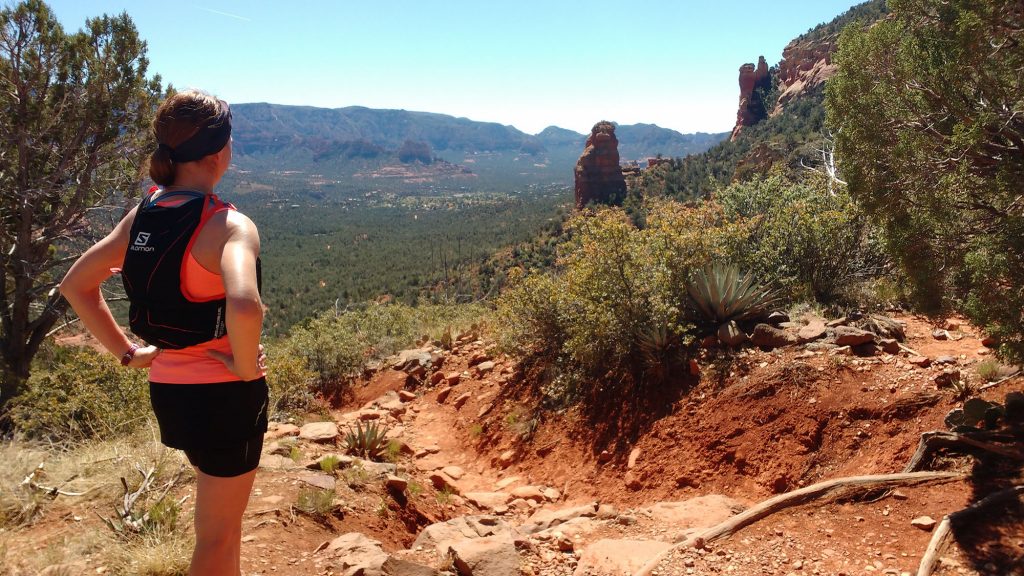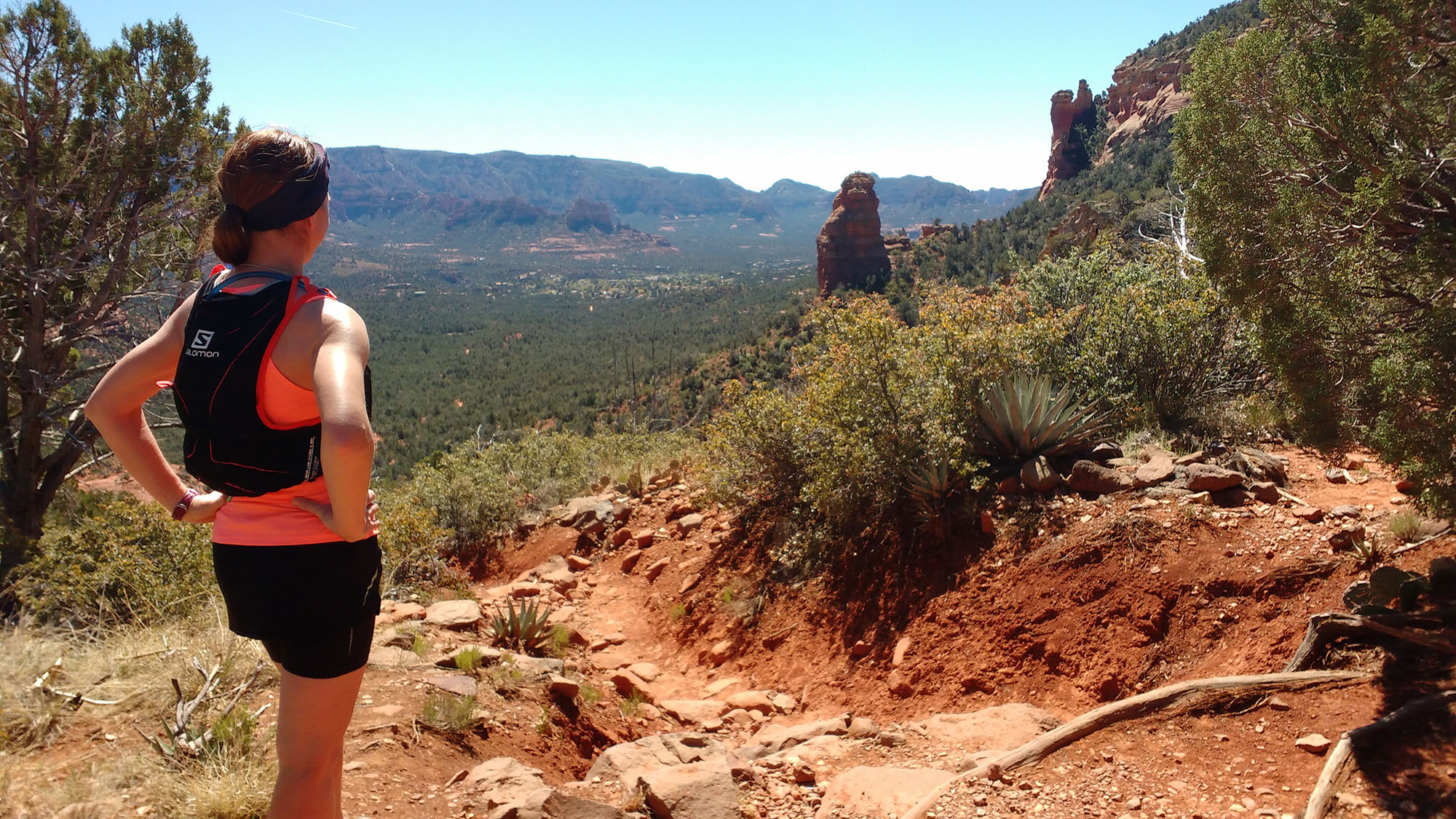 Less than an hour and a half drive to the south, towards Phoenix, the desert of Sonora has over 100 km of trails. Huge cacti and desert conditions will whisk you into another world. Running in this harsh environment requires that your are entirely self-sufficient; there are very few people who live in these surroundings and the heat can make your outing rather unpleasant.
Grand Canyon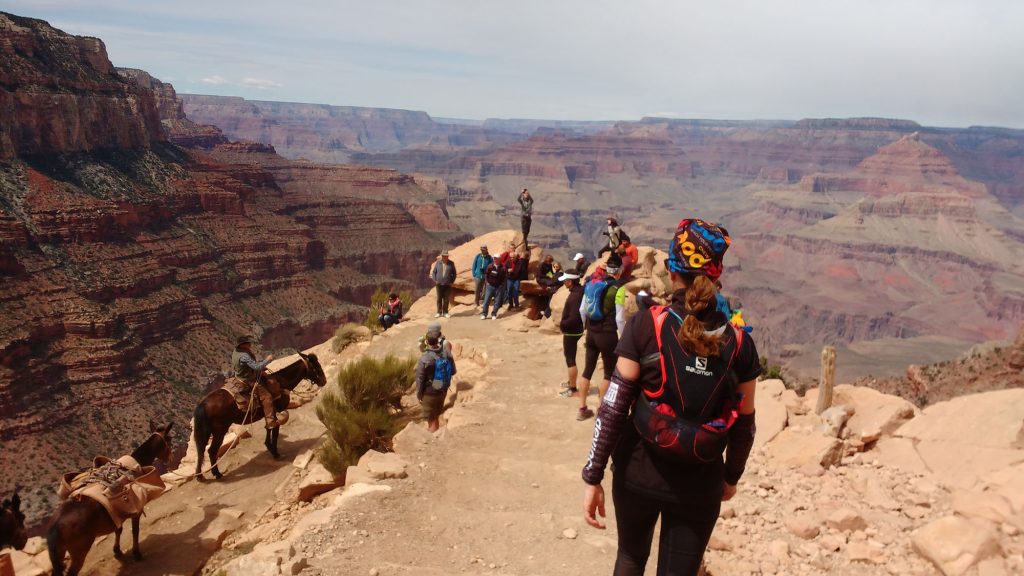 Last but not least, the Grand Canyon, located a two-hour drive north of Sedona, is of course a must-see.
The South Kaibab Trailhead is famous for its long descent that provides a memorable running experience. Although you will meet many hikers along the way, as well as a few donkeys, the arrival by the river at the bottom is a real reward. Plan for more or less 1:45 for a 5 km run.
One day in this mythical environment is not enough. Fortunately, the bus shuttle system makes it easy to get from one hiking area to another.
The road that leads to the Grand Canyon is a great way to admire the scenery that surrounds Flagstaff, a city located at over 2,100 m above sea level where elite athletes converge annually to make the most of their training.
The best way to cover these areas is to land in Phoenix, where you can rent a car and drive more or less 200 km to either Sedona or Flagstaff. There are many hotels and small inns where you can stay at an affordable price. We recommend the small cottages of the Red Agave Resort in Sedona, for their good location, right where the trailheads are.
Translation: Valérie Bélanger
Must Read: