The North Face Endurance Challenge California, returning this weekend in San Francisco, California, draws thousands of participants, spectators, volunteers and elite athletes each year. Everyone knows to expect fantastic competition, like the epic battle between elites Hayden Hawks and Zach Miller in 2016.
This year is the second time the race will be run on its new course – although much of the trails still wend and climb and dip through the Marin Headlands, it finishes after a crossing of the iconic Golden Gate Bridge. It would be the third, except the race was cancelled last year due to the health hazards posed by the California wildfires last summer and fall.
Although the course entails some 3200 meters of climbing, it is extremely runnable and non-technical. Much of the course is accessible to spectators, and first place is a cool $10 000 purse.
With fingers crossed, the race will not be cancelled this year, and we may anticipate and enjoy yet another spectacular edition of one of North America's flagship ultra events. Here's what to expect from the men's and women's front of the pack, with some French and Canadian standouts.
Elite Men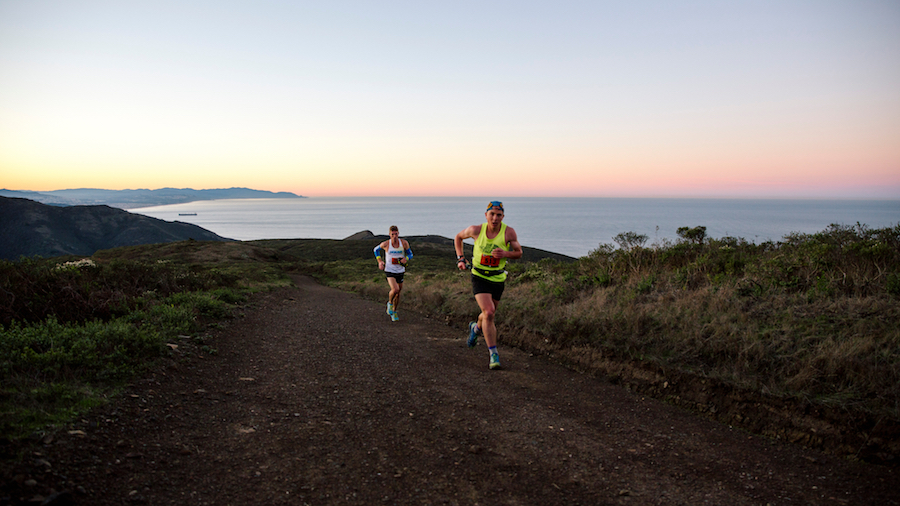 Zach Miller and Hayden Hawks will not be returning this year; nevertheless, we do have some formidable talent among the men's elites.
Arguably the two top guns in the competition are two very new and young Americans with already remarkable ultrarunning pedigrees. We are witnessing a changing of the guard, and younger athletes with track and road distance backgrounds are transitioning into ultrarunning competition with a great deal of success. One such person is Jared Hazen, who came in a blistering second place after Jim Walmsley at Western States this year (he also broke the old course record), and who won the similarly speedy Lake Sonoma 50-Mile race earlier that year. Matt Daniels came in 4th at the Western States this year, and while he is also a relative newcomer, he won the speedy Black Canyon 100K as well.
That said, two French ultrarunners can argue for a strong likelihood to ascend the podium. The first is Thibaut Garrivier, who came from out of nowhere at the age of 28 last year. He won Transvulcania in February (a truly grueling course which he placed 3rd in 2018) and having taken second at the CCC in the Ultra-Trail du Mont Blanc series this summer. He was also 2nd – by two seconds – at the Trail du Ventoux. There is no question he has booked his ticket with the intention to win the race.
The second Frenchman is Sébastien Spehler, who likely arrives with a chip on his shoulder after placing second at Lake Sonoma to the aforementioned Hazen's first place. Like Garrivier, he is a bit older than his American competition and also helps runners as a coach for the sport. He has been racing quite selectively since 2013, but clearly chooses his courses with care as he has a tendency to win whatever he signs up for, recently placing first at the Grand trail des Templiers in both 2017 and 2018. He likely will not show up with any intention to place second.
It should be a fascinating and engaging men's competition! It will be very interesting to see how the elites work with and against one another.
That said, there are many excellent male ultrarunners lining up this year. Eric Senseman, Drew Holmen, and the vaunted Dylan Bowman are all dark horses. It is also great to see ultra veteran (and full time dad) Hal Koerner back in action. If the latter finishes in the top ten it will be a true feather in his cap.
As far as we can tell from a thorough examination of the entrants' list, there do not appear to be any elite Canadian men at this year's TNFEC.
Elite Women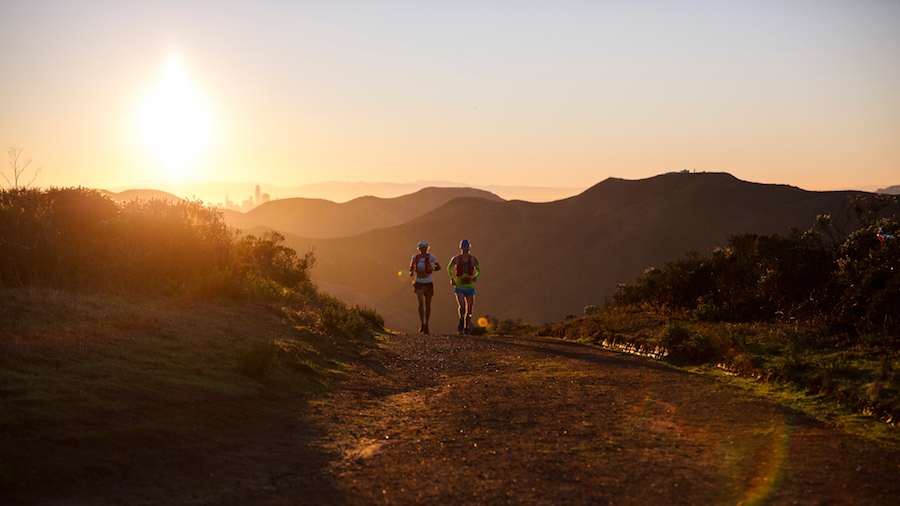 A clear favorite in this year's race is Clare Gallagher. She came in second in the race in 2017, but with far more fanfare, she won Western States 100-miler this year. Winning this race has become a hallmark for the best in the sport. Another one with a penchant for focusing on singular events, she won Leadville in 2016, and the CCC in 2017.
The Lake Sonoma 50-mile race is an excellent analogy to TNFEC – it's held earlier, in the spring, and it is a fast and furious runnable course on the east coast. This appeals to a specific type of runner, who loves the challenge of distance but prefers the speedy, rather than the technical course. This year's first and second women at Lake Sonoma are both racing at TNFEC, and that would be Anna Mae Flynn and Yiou Wang, respectively. We can expect a sincerely competitive women's field.
Elite Canadian Women
A notable Canadian elite at this years event is Anne-Marie Madden, who lived for some time in the San Francisco area last year, although she hails from North Vancouver. The familiarity with the trails certainly can't hurt – she has also raced the old course in 2014 and 2016, placing 4th and 6th. Madden is a mentally tough competitor and a veteran of West Coast racing, so expect her to do something special. This year continued her domination of the Squamish 50's 23k event with another win.
Another Canadian woman toeing the line from the "North Shore" (as Vancouverites refer to West and North Vancouver) is Kim Magnus. Kim is a stalwart in the Pacific Northwest ultra scene, and placed a nigh unbelievable 2nd place at the Chuckanut 50k earlier this year. She seems to be peaking as an ultramarathon competitor with a fantastic 2019 season so far, including a top-20 at Western States.
From Quebec, Sarah Bergeron-Larouche is on the entrants' list sporting a win under her belt in the 50k distance in 2017, and a win at The North Face Endurance Challenge New York in 2018. Last year she won the Broken Goat as well as the 65k of the Ultra-Trail Harricana – both renowned technical races. Can she crack the top five in a fast non-technical 50-mile ultramarathon? Only she knows.