At the beginning of July, a heat wave enveloped the entire Gaspésie region (Québec), in the heart of the Chic-Chocs, to its highest peaks. On the trails, a young ultrarunner set out to claim a course record for the longest distance he had yet to attempt, but the temperature made the endeavor impossible; Elliot Cardin's body shut down, preventing him from completing the 174 km he had resolved to fly over as fast as possible.
"I didn't see it coming," admits the Bromont (Québec) athlete, who this year became an ambassador for the Swiss performance running brand, 'On'. The project was planned to the smallest detail, and the training was right on schedule. "It's hot like that for only one day out of the year in the Gaspésie, and it happened to be that day," he says.
"Health should always be prioritized before performance," says Elliot, 27, revealing a defining personality trait: if he's a fighter and competitor, his health concerns will always come first.
Make no mistake: crossing the Chic-Chocs is not an impossible feat for Elliot Cardin. His reputation precedes him in the small world of Québec trail running after capturing and maintaining the public eye following a 2016 victory at the 55 km Bromont Ultra.
His accolades speak for themselves: second place in the 80 km at Bear Mountain, second place in the 100 (and 50) km Québec Méga Trail, victory in the 65 km Ultra-Trail Harricana…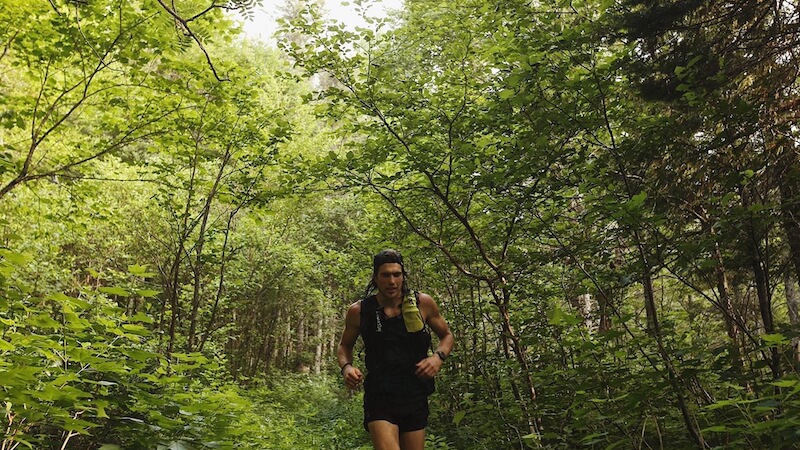 It is, therefore, an experienced athlete who arrived at the start in the Matane Wildlife Reserve. A punctured tire and repair in the middle of the woods did not affect Elliot's calm. He set off into the night.
"It was dark, there were many roots, and the incline was steep," Elliot recalls. "The beginning was a long climb before reaching the summit with a great view. "
At 4 a.m., the temperature had already risen to a humid 22 degrees. "The trail was muddy, and we had ferns up to our shoulders. We wondered if we were on the right path," says Elliot, accompanied at the start by one of his pacers.
He attacked the climbs with confidence and reveled at the wonders along his great adventure. "I saw five moose, including a female running towards me. She was surprised and turned back. "
The trail was invigorating despite the terrain's incessant ups and downs. "It was challenging, but my legs didn't tire. "That's rare for me," Elliot recalls. "Usually, it's a mental battle, but then, everything felt right.
The heat changes the game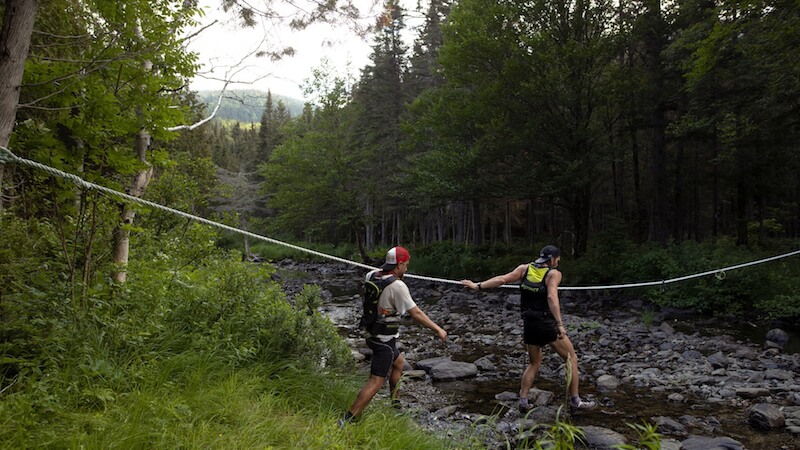 For almost 40 km, everything was going well, but as the heat started to rise, Elliot felt the effort become increasingly taxing.
Accompanied by a new pacer, the hills grew more daunting as his energy wavered. He slowed to walk up a hill, but it was not enough to restore his strength; the 35-degree heat was suffocating, and he could fight no longer.
"Fatigue overtook my body. I could have slept on the trail – standing. I tried to continue by telling myself that it was going to pass. In ultrarunning, there are always walls. "
That time was different. "I was dizzy and nauseous. I have never vomited that much in my entire life," recalls Elliot, who also remembers a crushing pressure in his head and eyes. "From there on, I was in survival mode. I kept moving forward, knowing that I would collapse if I took a break. There were still many climbs."
At the summit, Elliot shivered despite the heat. He shielded himself from the wind with his survival blanket; defeat hung thick in the air.
He stopped at 56 km. Having found his team at a hydration stop, he surrendered his exhausted frame to the forest floor. He had spent nearly 13 hours on the trails.
The peaceful competitor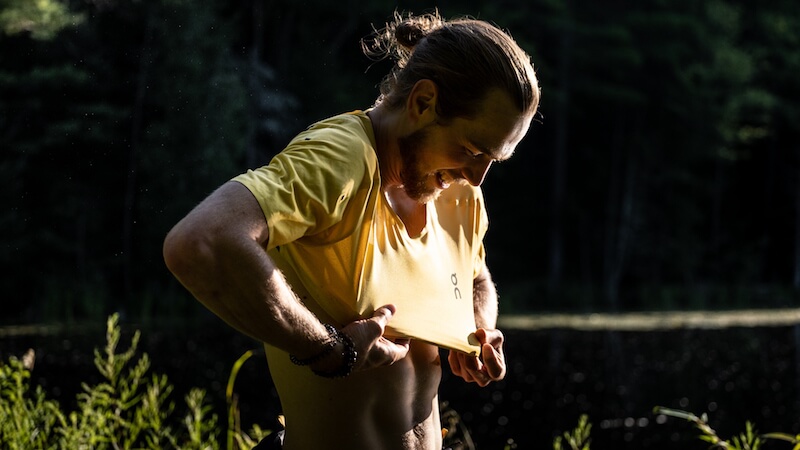 It is this event that allows us to discover more about the runner with the long blond hair. Elliot's discovery of running came around the turn of his twenties while he was in CEGEP [Québec post-secondary school]. As a boy, he enjoyed skating and snowboarding with his friends and boxing with his brother. He began weight training at a young age, developing a physique that, he believes, hinders his running. "I'm too massive in the upper body," he exclaims, laughing.
It must be said that his job as a mason helped in the maintenance of this form. "It's a demanding job. When you mix cement, the bags weigh 70 pounds, and you carry several in a day."
But things have changed, as Elliot has now transitioned from working in masonry. Upon finishing his naturopathic studies, he found a job as a consultant in a health food store. For those who do not know Elliot, the shift from construction to that of an expert in plant health may seem surprising.
It is not so. "I have always felt close to nature," Elliot explains. As a vegan for several years, he has gradually taken an interest in the link between health, diet and the outdoors.
This less physically demanding job now allows Elliot to complete two workouts per day to accumulate a greater running volume – some weeks logging upwards of 160 km.
"I like individual sports. You don't have to depend on a team. You can go for a run whenever you want and you don't need anything. I enjoy the minimalist aspect," says Elliot.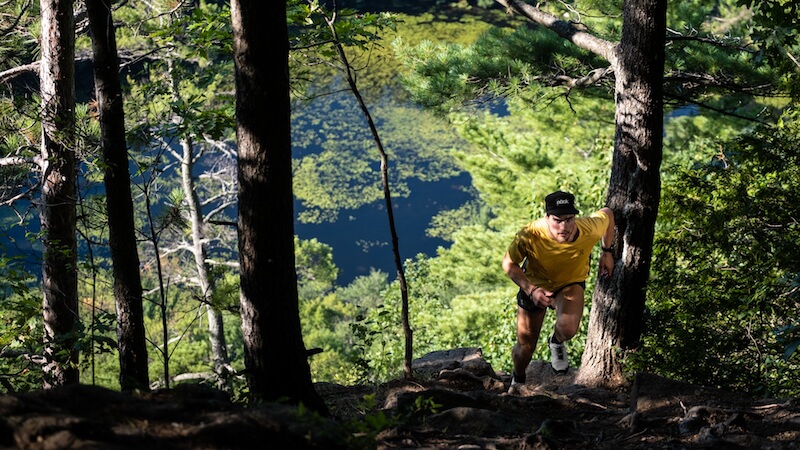 After tiring of running on the road, Elliot joined the Bromont Trail Club alongside one of the best trail runners in the province: Alister Gardner. "Elliot was always up for a run," Alister recalls. "If I sent him a message, he would say 'yes, I'm coming!'."
With the addition of runners from the Québec Eastern Townships region, a small training group was formed. Challenges were launched. "Elliot's motivation is still there," says Alister. "He's an intense guy, but he's very relaxed," he confirms. Elliot smiles all the time. "
Between the two athletes, the discussions revolve around sports and running. They enjoy discussing sports nutrition and diet since Alister is also vegan. "Elliot will never take a Tylenol or an anti-inflammatory – he'll go get a ginger root!" says the runner.
Over the years, Elliot has refined his approach to competition. "I'm not the runner who will get out in front of everyone. I get behind, in the 15th or 20th position, I feel the terrain to determine my pace, my strength lies in my mind."
"I'm a peaceful competitor," says Elliot. I have no desire to be aggressive. When I was boxing with my brother, he had to throw several punches before I started to fight back. I'd rather compete with myself. "
A pass on the Western States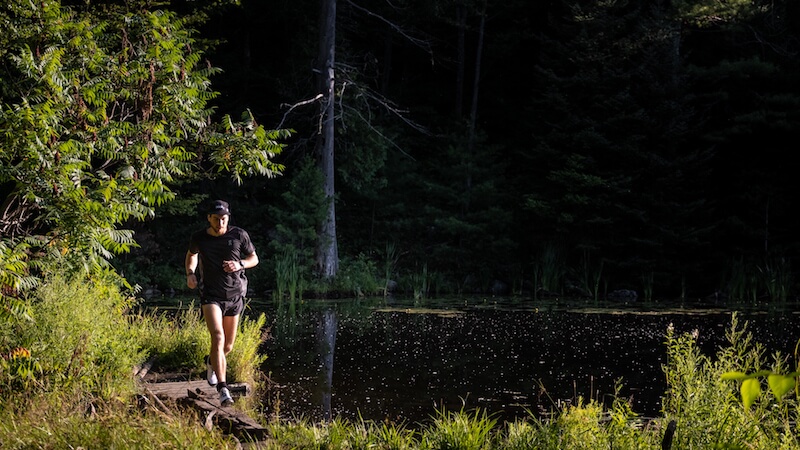 This zen inclination does not prevent Elliot from seeking intensity. After two DNF on two ultras due to minor health complications, Elliot resumed training with the resolve to reach peak fitness in a matter of months.
Just in time for the 100 km Black Canyon Ultra in Arizona; a course that attracts the sports top athletes and a challenge for Elliot to see where he stacked up.
Before boarding the plane, he met with "On's" representative in Québec, Maxime Simard, who left him with shoes. Despite the well-known advice to never compete in new shoes, Elliot set off on the 100 km Black Canyon Ultra in his brand new pair of On Cloudventure Peaks.
The outcome is almost too good to be true: not only does Elliot finish third, 8 seconds behind second, he also obtains a famous "Golden Ticket" of the Western States, one of the rarest passes granted in the world of ultrarunning.
"I told myself that I was capable of being among the pros. It gave me confidence," says Elliot.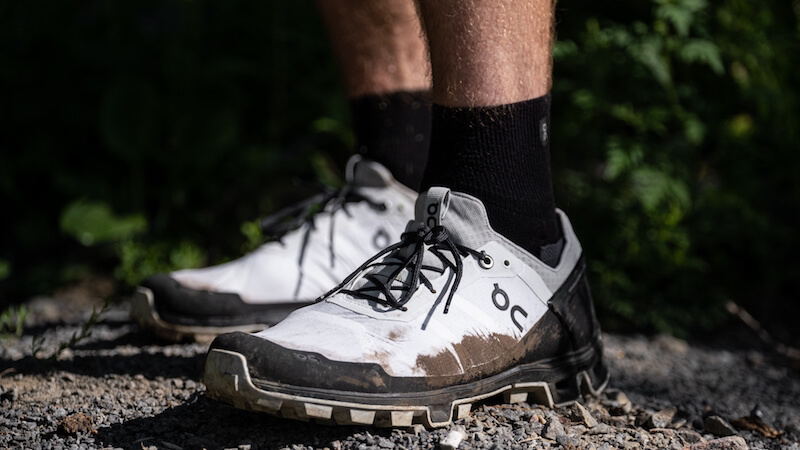 And about the shoes: "I didn't have black toes, I didn't feel any pressure points. I found them to be very comfortable! "
And for a good reason: the Cloudventure Peak is a performance shoe built for trail running. Its patented CloudTec technology (the famous little "clouds" under the shoe) are distributed on the sole to provide excellent cushioning. As for the rubber, also patented under the name "Missiongrip", it offers maximum grip on all surfaces, even wet, ensures "On".
"It's a shoe that leans more to the minimalist side," notes Elliot, who appreciates the light upper and the drop of just 4mm. "You can feel the contact with the ground and the grip."
Sadly, like almost all global events, the Western States have been canceled due to the pandemic. Elliot's place, however, is reserved for 2021.
Moving On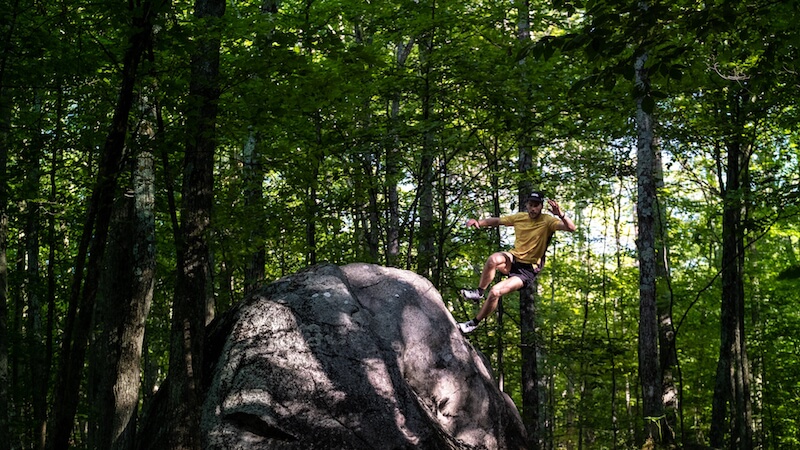 Regarding the Gaspésie adventure, Elliot remains optimistic despite the defeat. "Of course, I was disappointed. When it started to take a turn for the worse, I had to remember that the most important thing is health," reiterates Elliot.
"At On, we advocate for the well-being and physical health of our consumers above all else," explains Maxime Simard, representative of the Swiss brand. "Running is not just a sport; it's a way of life."
Elliot's setback is a success, affirms Maxime, who was in charge of the Gaspésie technical direction and team supervision. "No matter how many kilometers you manage to cover in the Chic-Chocs, you are a stronger person for it. The rocks and roots create mental stresses that make you more resilient."
Since then, life has followed its course: Elliot continued his outings with his usual training partners while preparing to complete 125 km at Ultra-Trail Harricana, where he finished second at the beginning of September.
"Everything is a learning process, and I have a positive outlook. You always have room to learn more about yourself. That's what I like about ultrarunning: you have to draw deep into yourself, into your resources."
This is also why Elliot particularly likes long distances. He can run for hours, have long expeditions, see beautiful landscapes, and discover his limits; all with no plans of slowing down.
---
Based in Zurich, Switzerland, On has taken the athletic footwear market by storm. Driven by peer-recommendation, runners are discovering the superior performance and sensation of On running shoes and its award -winning CloudTec® technology. As a result, On is attracting the fastest-growing fanbase in the world.
In trail running, two models are currently on the market: the Cloudventure, and the Cloudventure Peak. If an amateur runner is looking for a shoe that is effective in all mountain situations, the Cloudventure will be very suitable. The "Peak" version will be faster and more dynamic – built to leave competition behind.
Ten years after market launch, On is available at more than 6,000 retailers and over 55 countries in Europe, North America, South America and Asia-Pacific.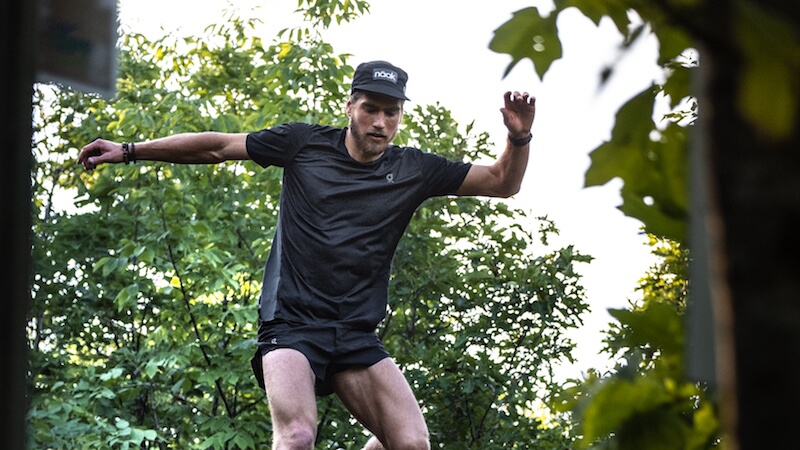 ---
BOOM content is ordered and paid for by a Distances Medias customer. This article was produced under an agreement with the company « On ». When Distances+ publishes a sponsored content, which respects it's editorial policy, it clearly advises the public. The content is produced by members of the Distances+ team, in the tone, style and manner that sets us apart.